Groove Savor at the MTH Filter House Sessions vol.4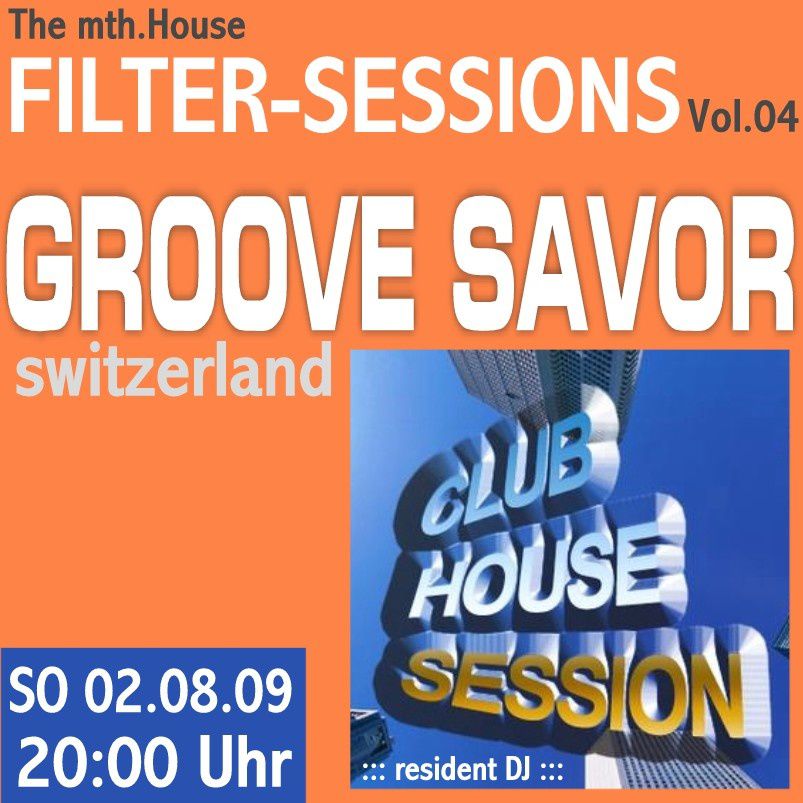 Salut !
Groove Savor a été diffusé lors de l'émission MTH Filter House Sessions sur la Web radio allemande mth-house.de le 2 août 2009.
Ce concept a été créé depuis peu par le compère de Groove Savor, à savoir SKingz du label Discogalaxy.
Il a pour objectif d'accueillir grâce à une heure de mix les meilleurs DJ de la Disco House. Trois éditions ont d'ailleurs été réalisées avec des guests comme Belgian Beer (France), DJ EQ (USA) et tout récemment Joey Chicago (Allemagne). Que de bons noms donc, et cela continue avec la participation de Groove Savor pour le 4ème opus de cette émission. Une belle occasion donc de s'immiscer parmi les références de la House filtrée.
Ci-dessous, vous trouverez le tracklisting complet avec notamment les exclusivités de DJ EQ, SKingz (à prononcer "Eskingz") ainsi que Groove Savor !
Retrouvez donc l'enregistrement de l'émission en la téléchargeant ici:
Groove Savor at the MTH House Filter Sessions Vol. 4
English
Hi!

Groove Savor has played a new mix for the MTH Filter House Sessions german radio show on August 2, 2009.

This concept was created recently by the accomplice of Groove Savor, namely SKingz of the Discogalaxy label.
The aim of the show is to invite thanks to one hour mix the best DJ's of Disco House music. Three editions were carried out with guests like Belgian Beer (France), DJ EQ (USA) and very recently Joey Chicago (Germany).
Very good artists thus, and it goes on with the performance of Groove Savor for the 4th opus of this show. This is a great opportunity for him to interfere in among the references of the filtered House.
Below, you will find the complete tracklisting with tracks by DJ EQ, SKingz (to be pronounced "Eskingz") and Groove Savor!
You will find the recording of this show by downloading it here:
Groove Savor at the MTH House Filter Sessions Vol. 4
Tracklist
01 ) DJ EQ - Princeton
02 ) Jean Moustache - M.I.L.F. Paradise
03 ) Weekend Players - Catch Me If You can (Audio Jacker Remix)
04 ) Groove Savor - To Keep A Smile On Your Face
05 ) Esquire Vs Bob Sinclar - Can You Feel It
06 ) SKingz - Movin Up
07 ) Calvin Bosco & Chris Bekker Feat. Giorgio Moroder - The Chase (D.O.N.S. Remix)
08 ) Rhythmatic Junkies - So Good (Rhythm Masters Mix)
09 ) Mario Ochoa - So Urgent
10 ) Bustafunk - Back To The Old School
11 ) Defunk - Move Me (Groove Savor Vocal Edit)
12 ) J. Majik Feat. Kathy Brown - Love Is Not A Game (John Julius Knight Vocal Mix)